A yummy Caesar salad inspired wrap recipe. Don't have Caesar dressing on hand? Try the Caesar dressing recipe included here!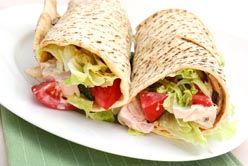 The Caesar Chicken Wrap is an excellent crowd pleaser. I love Caesar salads - many people do! This wrap is tasty, satisfying and easy to make. For this recipe we are even going to make our own Caesar dressing. (Though if you prefer to use store bought, that's your mistake to make!)
This recipe is for 2 wraps.
Ingredients
2 tortilla wraps
2 Tbsp olive oil
romaine lettuce
2 boneless skinless chicken breasts
1/2 tomato, diced
handful of croutons (optional)
salt and pepper
Directions
First you are going to want to roast the chicken breasts. (Or you may use left over roasted/baked chicken if it's available.)
Brush olive oil onto the chicken breasts. Grind a healthy amount of fresh pepper and salt onto them. Let them bake for 35 to 40 minutes at 375f.
When they are finished, allow them to cool enough to handle them. Chop into 3/4 inch cubes.
Wash and dry several large leaves of the romaine lettuce.
Lay the wrap out and spread a medium thick layer of your Caesar dressing across the middle of them.
Add a couple leaves of lettuce and tomatoes on top of that and heap on some cubed roast chicken and croutons.
Add a second dollop of Caesar dressing onto the chicken, and finish off the wrap with as much Romain as you can stuff into it.
Wrap it up and enjoy!
Caesar Dressing Recipe
1 clove of garlic
1 Tbsp shaved or cubed fresh Parmesan
1 Tbsp Dijon mustard
1/2 fresh lemon, juiced
1/2 cup regular mayonnaise
1 Tbsp extra virgin olive oil
pinch of salt
fresh ground black pepper
(Yes, this is a mayo based Caesar. It may not be completely authentic, but it's perfect for a wrap.)
Combine all the above ingredients in a food processor and blend until the dressing is smooth.